Jennie sa…
Fun with such facts :) So you and your sisters are not whole siblings? Tell us a little about your sisters. How old and so? Do you have the same mother?
Yes, that's right, biologically all my siblings are half sisters, we have the same mother. But I of course see my sisters as full sisters, because we grew up together :)
Mother had five daughters, I'm the youngest! The rest are 30, 26, 25 and 21, and I'm 19.
My oldest sister Pia has moved to Finland, so we do not see each other very often, but keep in touch well anyway. The rest live nearby, so we can be seen a little closer :)
Found some old pictures on sister Mia's blog!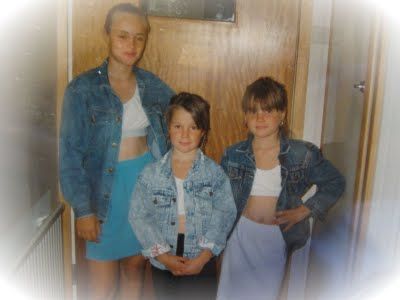 Pia, Malin & Mia.
Mia, Linda & I, with Kim from Arvingarna :)
The two sisters I have on my dad's side, who are biologically as much sisters as the above, I do not see as sisters at all.
Would not be able to do without my sisters! :)