There was a lot of work with Frida yesterday, and as you can see in the pictures I published earlier, she got filled and fairly marked eyebrows.
Thought to show a little how I went about it!
To begin with, I plucked her eyebrows with a pair of regular tweezers. Frida has a pretty good shape from the beginning, so I just removed some unnecessary straws that did not belong to the shape.
Above all, Frida has very many
light straws
around the eyebrow, which are not really visible that much, but they make the shape stand out less and still make it look a bit "messy".
Used one
whetstone
to the lightest straws that are difficult to remove with tweezers.
A very simple tool, which sounds dangerous but there is no risk of cutting yourself as it is not sharp that way! I use a whetstone from
Creativemakeup.se
, 35kr.
Before eyebrow plucking.
After eyebrow plucking.
You could get the brow more shaped, but then you also have to pick them narrower. You simply have to choose.
Also got rid of the "sprawling" at the beginning of the brow closest to the nose!
I
filled
also in her eyebrows. Many people do not do it because they already have a nice shape naturally, and that is logical. But it will be like that
big difference
still that I can not help it :)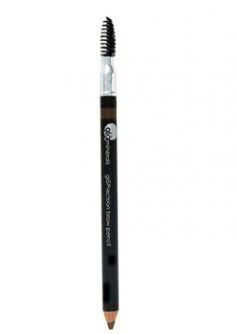 Started filling in with a pencil.
Used a brow pencil from Glo Minerals in the color "Blonde".
Think it's a great choice too
blondes
, as you can easily get darker if you press more with the pen. But it will also be very bright if you are light on the hand!
The result with the brow pen!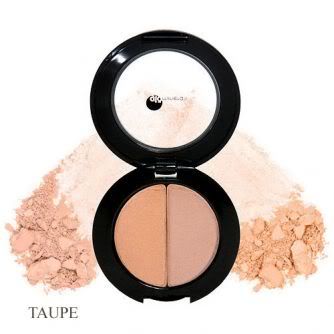 Also tested eyebrow shadow, which usually gives a more natural result.
Use these two shadows from Glo Minerals. Mixed the yellowest shade in "Taupe"With the light shadow in"Brown".
The result with brow shadow!
A little unnecessary to buy
both
the brow shadows maybe, I could mix because I already had both. But the brow shadow "
Taupe
"I think I'm so good for blondes, if you're like Frida blond but not very bright, I recommend buying
the
, and then mix a little with a regular light brown eye shadow instead.
All
eye shadows
does not fit well as brow shadows, therefore there are special brow shadows as well. But you can find one that works well, and in this case when you mix with a brow shadow, there are probably no problems.
Do you usually fill in the eyebrows?