Got a cute email the other day!
"Hello!
First I want to say WOW what wonderful makeup you do. Can't help but look at all the pictures you post.
Have also purchased a 180 Palette to see if I know what you are doing.
What I wonder is if you can do a make-up in red? Got for me to buy a red eyeshadow but do not know what to do with it.
It becomes too much to just have it on the eyelid.
Once again… .it's superduper looking makeup.
Have a nice day
I keep checking your page …… :)))"
Red is a slightly tricky shade. It becomes easy too much if you only have it all over the eyelid, and many easily feel "red-eyed".
My tips are:
Feel free to use 
one more
eye shadow, either a completely different color, for example, I think it's cool to mix red and purple. Or a slightly more natural shade, as I have done below, so that it is really only red but still not "all red".
And for those of you who lighten the red-eyed feeling, skip wearing the eye shadow
lower lash line
. This is usually when you feel "sickly red-eyed".
And
Here is at least a quick step by step on this makeup! Red but not pan red so to speak.
All eyeshadows are from Eleven 180 Palette.
Light yellow-white highlighter shadow at the bottom of the lower lash line, in the corner of the eye and under the brow.
RED eye shadow at the end of the eyelid and along the globe line, a little " >"-format.
Light golden eye shadow on the rest of the eyelid, a little up on the crease line and on the lower lash line.
Dark copper red eye shadow at the end of the lower lash line.
(Chose not to have bright red here, due to the "red-eyed feeling" that I wrote about at the beginning of the post)
White eyeliner
on the inner lash line
, H&M.
Black eyeliner
at the bottom of the lower and upper lash line,
glo Minerals gloPrecisio Eye Pencil (Black)
Navy blue mascara on all lashes, Max Factor False Lash Effect (Deep Blue)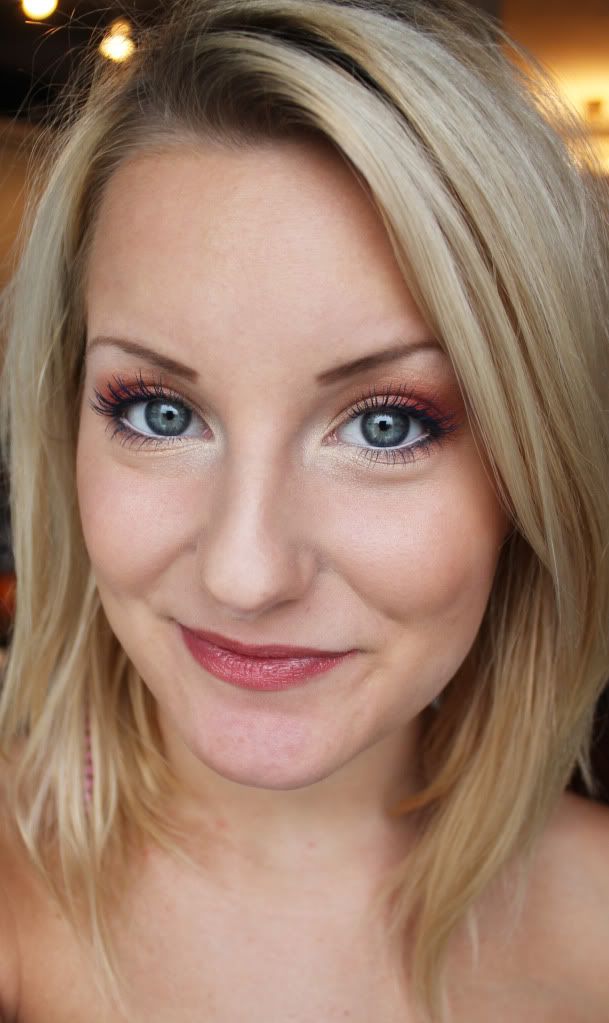 Lip gloss pencil
,
glo Minerals gloRoyal Lip Crayon (Corall)
Frida
came for a coffee visit, and stands and tells one thing in the background.
You can see in the picture that I am laughing inside!