Have shown some before and after pictures from my Bare Minerals products before, but never showed theirs
concealer
which is in powder form.
What I think the concealer is best for are pimples and other blemishes. Then it works
super
! And I like that it is powder instead of a creamy!
However, it is not perfect if you are dark under the eyes, or have dark areas on the face.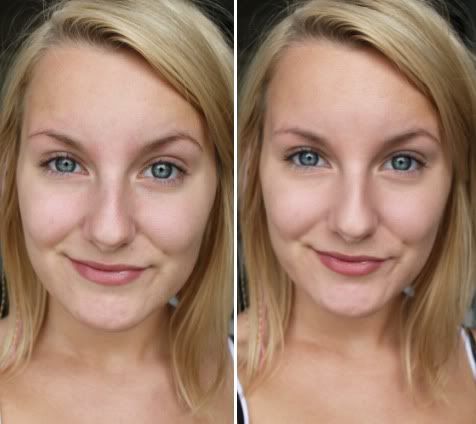 Before and after Bare Minerals Concealer.
 You can see that the concealer covers well. And with foundation, it will be a nice result.
But! I picked some straws from the brows to get a little red, and it was not covered properly.
Also, I'm still a little dark under the eyes.
Only the best is good enough;)
As you can see in the pictures below:

Without makeup - After eyebrow plucking
(Answer yes, I get huge red when I pluck my eyebrows, haha)
With gloPressed Base Foundation - After eyebrow plucking
The result is awesome !!
If one, however
only
is looking for a small concealer, so a whole foundation for SEK 449 is perhaps a bit excessive. But I myself really think it's worth it!
Glo Minerals gloPressed Base foundation is available for purchase here!
After Bare Minerals Foundation + sun pillows
Think Bare Minerals
foundation
of a higher standard than the concealer.
And their sun powder (also powder) I also think is super good! It is very easy to take too much, but when you get the cuts it is great :)
Any of you who have tested Bare Minerals?