After the post about cheap makeup yesterday, I thought I would do a little "budget makeup"!
Do not really remember all the prices on H & M's products, they were few of those that were on their website. Writes on an approximately!
Have used this eyeshadow palette from H&M.
Would guess that it costs approx
40kr.
Their palette with many eyeshadows costs 69kr, with it you can do lots of different make-up! But I have lent it at the moment :)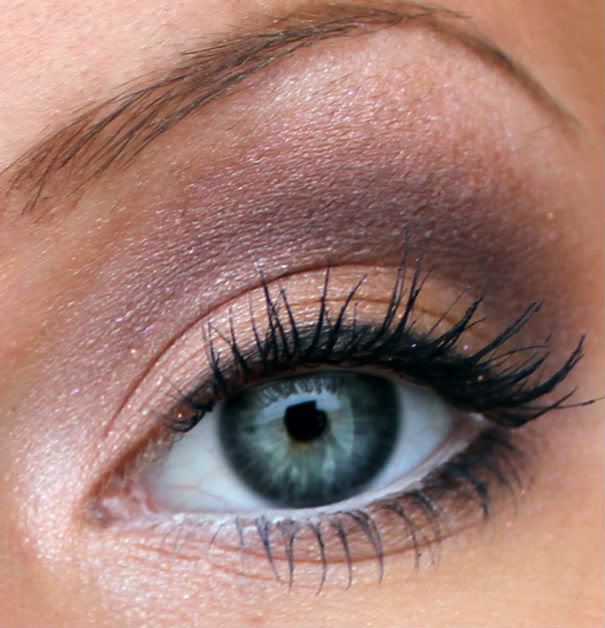 Light pink eye shadow at the inside of the eyelid, in the corner of the eye, under the brow and at the bottom of the lower lash line.
Light brown eye shadow at the end of the eyelid and over the globe line.
Maroon
eye shadow at the end of the lower lash line and along the globe line.
Gray-black eye shadow a little smoky along the globe line.
Pink glitter
on the eyelid (almost impossible to capture in the picture, but it glitters shitty!)
Kryolan Glamor Dust S.4
(39kr)
White eyeliner
on the inner lash line,
H&M (20-30kr)
Black eyeliner
on the entire upper and outermost lashes,
H&M (20-30kr)
Black mascara
on all lashes,
Maxfactor False Lash Effect (SEK 175, bought for SEK 149 on sale!)
H&M has also done pretty well
eyebrow pencils
(29kr)
 but mine is out and now I only use my brow shadow from Glo Minerals.
Jojoba Foundation
(169kr
here!
)
Red lip gloss, H&M (only SEK 10 if I remember correctly)
Hope it was a little helpful, know I'm not alone in having an echoing wallet!
But it's just that prioritize Right! Better to put a few extra crowns on good foundation make-up + primer, and then buy cheap eye shadows / pencils etc.
Better cheap makeup than nothing at all
;)