It was a late night yesterday, terribly tired now…
But as long as you have gone to bed late because you have been
diligent
, and which I e.g. did - wrote a resume. Then it's totally okay :)
Here's yesterday's makeup!
Would actually blog about it yesterday, but because some people do not behave like that
closes
the school of the Internet at 00.00. So I never had time to publish. Badly.
(All eyeshadows are from the 180 palette)
Green eye shadow at the innermost and outermost part of the eyelid, and at the outermost part of the lower lash line.
Valid eye shadow in the middle of the eyelid + the middle of the lower lash line.
Gulvit
eye shadow in the corner of the eye and under the eyebrow,
Kryolan Eyedust No.1 (Annika's favorite shadow
)
Green glitter on the eyelid, Kryolan Glamor dust.
Blonde brow shadow, Glo Minerals glo Browpowder duo, Taupe.
Black mascara
on all lashes,
Fiberwig LX Masacara.
Black eyeliner
on the upper lash line + wing,
Kryolan Cake Eyeliner.
White eyeliner
on the inner lash line,
H&M
.
Picture without flash
, so that you can see the glitter a little better.
The glitter I use is so heavenly nice !!
Gets just as sad every time I blog about a make-up and it is barely visible in the pictures…
Lip-gloss
,
Glo Minerals gloLipgloss, Blushing
.
Rouge, Glo Minerals, gloBlush Powder Rouge, Rosebud.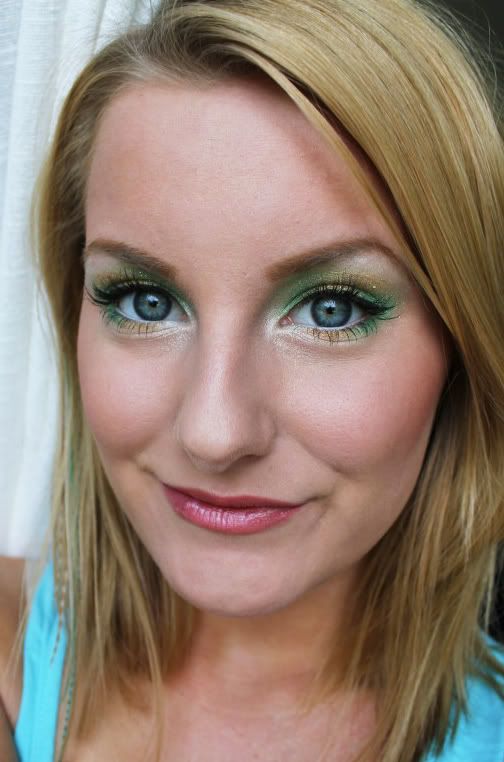 No, now I'm going home to my darling! :)