Thought to show you two different kinds of false eyelashes today :)
Har
not made up
something at all in the pictures below, so that you can see exactly how the lashes sit.
Have used one like this
Eyelash strip
from
Kryolan
.
Then you cut a fringe that is simply as long as you want.
I also "trimmed" it a bit so that the lashes at the bottom of the nose became a little shorter.
Here is the result!
(Looks a little fun completely without makeup)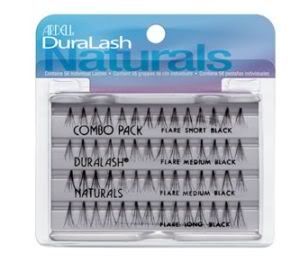 Have also tested these occasionally
fransknippen
from
Duralash!
You can easily decide how much and where you want denser / longer lashes.
And these particular French bundles are very smart then
mixed lengths
in the packaging!
Usually short / medium / long lashes are in different packages. But now you can vary the length for each day, maybe short for everyday and long for parties. Or as I did, mix and match long at the outer edge and shorter further in!
A little more natural impression.
I myself like the French bundles better than the whole, as I have very
sensitive eyes
and find it difficult with a large "fringe length". And then I prefer to myself a little more natural look on the lashes!
It is
very
you should keep in mind when I attach your lashes, cut to the right width, bend your lashes before if you have very straight eyelashes, wait a while after you put on the glue before attaching the lash so that the glue becomes more sticky than liquid, put fransen saw
close
their natural lashes as possible, etc.
But here are the three things I think are

most important:
1
- Paint one
eyeliner
before applying the lashes, or some other kind of black foundation on the fringe edge, maybe a little black eye shadow. This means that the false eyelashes blend in better with the real eyelashes and see more
naturally
out! Be sure to cover 
between
lashes properly as well, so as not to get that "gap" that might otherwise occur.
2 –
Bend
and fold the false eyelash itself before applying it, to get the fringe more shaped. Then it folds more easily the way you want it! (
Also applies to ordinary false eyelashes that are already slightly shaped
)
3 –
If you are going to attach single bundles of fringes, be careful
how
you hold the French bundle when you attach it. Then it is easy to man
angles
 it in different directions so that the lashes do not point in the direction they should.
I'm using this Duolimmet to attach the lashes.
I who otherwise do not use lashes so often do not have much to
compare
with, but it is at least much better than the glue that often comes with the lash packs!
Ask if you are wondering anything more!