Good morning World!!
Before, I took all my makeup pictures with me
flash
, but when I realized how much better pictures it will be in daylight, I started
hate
to shoot with flash.
The images get shadows in a completely different way, and feel more "blurry" in some way.
I often even choose to ignore my make-up when the sun is not up. But now it's getting closer darker times, and it is no longer obvious to be able to take pictures in daylight.
So it's just as well to get used to it! Here's yesterday's make-up - with flash.
 Light yellow-white
shimmery eyeshadow on the inside of the eyelid, in the corner of the eye and on the bottom of the lower lash line,
Kryolan Eyedust (No.1)
Brown shimmery eye shadow at the end of the eyelid, Eleven 180 Palette.
O

r

a

ng

e

–

c

or

a

ll
shimmery eye shadow along the globe line,
Eleven 180 Palette.
Light yellow-white matte eye shadow under the brow, Eleven 180 Palette.
White eyeliner
on the inner lash line,
H&M.
Navy blue mascara on all lashes, Max Factor False Lash Effect (Deep Blue)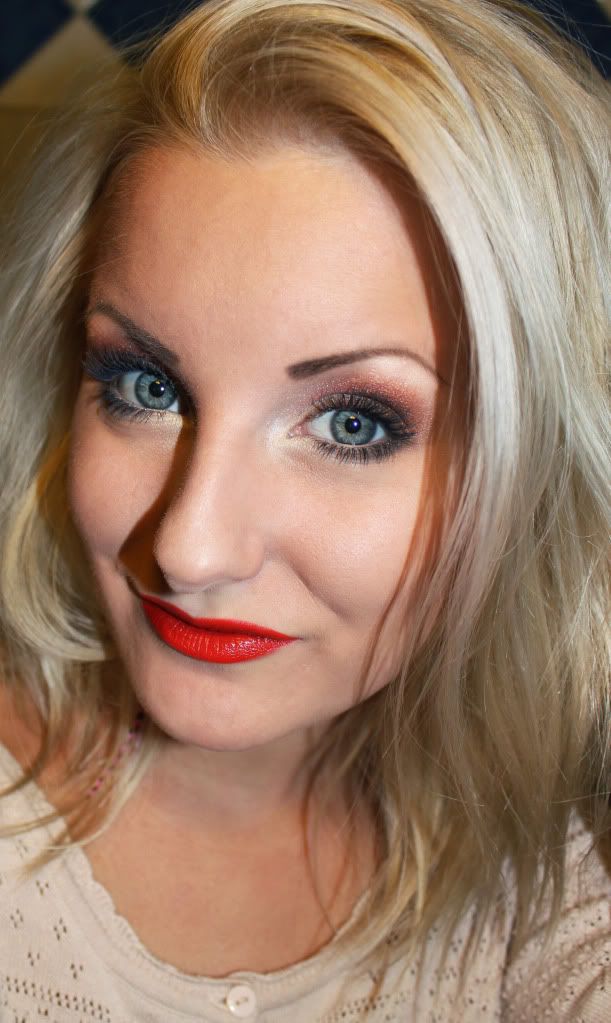 (You see in my face that I'm not really happy, haha)
Bright red lipstick, Eleven 66 Color Lip Palette.
Now I'm going to work. Still feels weird to say so;)
Have a nice day everyone!